So I haven't had internet for five days now which means I am playing catch up like there's no tomorrow!!! (I
WILL
AVAIL AT FINISHING ALL PRESENTS BY JAN. 6) so this is for my beautiful, fantastic, thoughtful, hilarious, talented real-life best friend, Miss Rachel Brown. I know you like photography and learning new things and be all bad-ass with the superior amounts of knowledge you have over your inferior peers so I decided to combine photography + facts into a giant YEAR IN PHOTOS PICSPAM!!! It's like a gratuitous helping of knowledge. Hope you enjoy it my dear <3
PLEASE DO NOT HOTLINK
or you will break my little heart D: This is for
DECEMBER 28th
, to
fishness
and eight babies more!
for rachel (
fishness)
'end-of-the-year picspam, christmas card w/ gift'
january
Around the world, people started celebrating the end of the old year and the beginning of a new one. Above, Mexico's golden Angel of Independence stands in front of fireworks during New Year's celebration in Mexico city.
The assasination of Benazir Bhutto led to riots and accusations of a coverup. Bhutto supporters chant slogans at a candlelit ceremony.
Disputed results of a Dec. 27 election triggered a wave of riots and violence that the United Nations says has left 300 people dead and displaced 250,000 others. Kenya's opposition party has demanded new presidential elections. A Kenyan man flees with his children during the disturbances in the streets of the Mathure slum in Nairobi.
Mark Malkoff, 31, moved into the IKEA store in Paramus, New Jersey, for a week while his New York City apartment was fumigated. "We thought it would be a lot of fun and interesting," said deputy manager Julie Mott.
After five years of war, Iraqis were greeted with something different: snow falling across the city of Baghdad. Although the white flakes quickly dissolved into grey puddles, they brought an emotion that has been rare in the desert capital -- delight.
A police officer walks past thousands of brightly colored balls that were dumped down Rome's Spanish Steps. Graziano Checcini, who calls himself an artistic activitist, claimed to Italy's ANSA news agency that he released the balls to highlight the nations problems.
Australian film star Heath Ledger was found dead Tuesday in his Manhattan apartment. The cause of death was believed to be an accidental overdose of prescribed medicines. Sales of his films spiked in the wave of the unexpected news, including the 1999 comedy "10 Things I Hate About You" and the 2005 drama "Brokeback Mountain." A photograph of the actor rests in the makeshift memorial in front of the building where he died.
february
Sixty years after the assisination of Mohandas K. Gandhi, his great-granddaughter Nilambas Parikh scattered some of his ashes in the Arabian Sea after a procession in the city streets. Gandhi -- called Mahatma or "Great Soul -- is often regarded as India's moral conscience and a rebuke to materialism and corruption.
Worldwide, people rang in the Chinese New Year. In China, the weeklong holiday starts on the New Year's eve -- "The Year of the Rat" began on Feb. 7 in the lunar calendar -- as many families gather for a feast, watch a New Year's gala broadcasted on TV, then set off a round of firecrackers at midnight.
The Australian government formally apologized to Abrogines for decades of racist policies. Representatives for Australian aborigines confirmed plans to launch the first compensation lawsuits since the landmark apology. A man hugs an Aboriginal man as they watch Prime Minister Kevin Rudd apologize on a big screen outside Parliament House in Canberra.
Police arrested a 70-year-old man suspected of setting a fire that destroyed South Korea's top cultural treasure, the 610-year-old Namdaemun gate in Seoul, authorities said.
Valentine's Day was celebrated around the world on Feb. 14. Above, candles are placed to form the shape of a heart at a Valentine's promotional event at Red Brick warehouse in Yokohoma, Japan.
Democratic presidential candidates Barack Obama and Hilary Clinton shake hands following a debate at the University of Texas in Austin. Obama enjoyed a hot streak heading into the debate, winning 10 straight primaries and caucuses.
The moon is partially eclipsed as it rises in cloudy skies over the San Francisco Bay Bridge. It will be the last lunar eclipse seen in North America until 2010.
A woman casts her vote at a poling station in Lahore for Pakistan's general elections. President Pervez Musharaff's party suffered crushing losses all across the nation, winning just 15 percent of the vote.
The US Embassy in Belgrade burns after masked attackers, seen in the window above waving a Serbian flag, set an office on fire. More than 150, 000 protested Kosovo's independence , vowing to retake the territory seen as Serbia's religious and national heartland.
Cary Fowler, executive of the Global Crop Diversity Trust, holds seed packets in the "doomsday" vault, built to protect millions of food crops from climate change, wars, and natural disasters. The vault has been built in an arctic mountain in the remote Norweigian archipelago of Svalbard.
For the first time since 1965, all four acting academy awards went to non-Americans. From left, British actor Daniel Day-Lewis won the best actor for "There Will Be Blood," British actress Tilda Swinton won best supporting actress for "Michael Clayton," French actress Marion Cotillard claimed best actress for "La Vie En Rose," and Spanish actor Javier Bardem nabbed best supporting actor for "No Country For Old Men."
Britain's defense chief decided to immediately pull Prince Harry out of Afghanistan after news of his deployment was leaked citing concerns that media coverage could put Harry and his comrades at increased risk. Harry, third in line to the throne, mans a 50 mm machine gun.
march
Tibetan core marchers chant slogans from the back of a police vehicle after being arrested at Dehra. Protests led by Buddhist monks against Chinese rule in Tibet turned violent, with shops and vehicles being torched and gunshots echoing through the streets of the ancient capital, Lhasa.
Spectators watch from a pier as Space Shuttle Endeavour launches at night from pad 39A at the Kennedy Space Center in Cape Carnaveral, Fla. Endeavour soared into space, carrying parts of a Japanese laboratory that is to become the largest and last research module of the International Space Station.
An Aurora Borealis spins above a hayfield and the Talkeetna Range near Palmer, Alaska. The natural-colored light displays are named after the Roman goddess of dawn, Aurora, and the Greek name for wind, Boreas.
Ulta-orthodox Jews are seen through a door damaged by bullets at a rabbinical seminary in Jerusalem. Eight students were killed by a Palistinean gunman in a nighttime attack at the school's library.
A volunteer hammers a nail through the palm of Melchor Montoya during a reenactment of the crucifixion of Jesus Christ. At least two devotees were nailed to the cross as the predominantly Catholic nation observed Good Friday.
Nihangs apply colored powder to each other during Hola Mohalla celebrations in the northern city of Chandigarh. Hola Moholla is celebrated during the Hindu religious spring festival of colors, Holi, marking the congregation of Sikh devotees from all over the country.
A protester marches in front of the White House as the sixth year of the Iraq war begins. In a speech, President Bush defended the invasion, vowing no retreat as he promised U.S. forces would triumph over Iraqi insurgents.
Ukranian Leonid Stadnyk -- at 8 ft, 4 inches the world's tallest man according to the Guinness Book of World Records -- shake hands with a friend. Forced to quit his job due to his height, Stadnyk was surprised to receive gifts -- including outsized clothing, a giant bicycle, and running water for his home -- from people all over the world.
Voodoo believers perform a ceremony at a sacred pool in Souvenance village, Haiti. Hundreds participated in a holy pilgrimage, showing their devotion to the spirits with drumming, chanting, and animal sacrifices. One of Haiti's three constitutionally recognized relgions, voodoo was brought to the country by slaves from Africa.
Playing an ancient Greek high priestess, actress Maria Nafpliotou hands the flame of the Beijing 2008 Olympics to Greek athlete Alexandros Nikolaidis, the first torch runner, in the dress rehearsal for the relay. Pro-Tibet protesters unfurled a banner showing the Olympic rings replaced by handcuffs when the Beijing Olympics chief spoke at the official lighting in Olympia, Greece.
april
Lights at landmarks around the world were switched off for Earth Hour, a global campaign to highlight the threat of climate change. Above, San Francisco's Golden Gate Bridge goes dark.
Father Vinod Singh holds his daughter, Lail, as visitors touch the child's feet in reverence. Worshipped as the reincarnation of a Hindu goddess, the baby was born with two faces, two noses, two pairs of lips, and two pairs of eyes.
Maasai warriors from northern Tanzinia jump as they pose for the media ahead of the London Marathon. The warriors planned to run the race wearing their traditional costumes to raise money for their local community.
A Tibetan supporter, right, argues with a Chinese supporter at a rally in San Francisco over the Olympic torch relay. Even after the route was changed, International Olympic committee Jacques Rogge said relay avoided much of the turmoil that marred the London and Paris legs. "It was, however, not the joyous party that we wished it to be."
Located 450 million light-years away from Earth, IRAS 20351 +2521 is a galaxy with a sprawling structure of gas, dust, and numerous blue star knots. The Maryland-base Space Telescope Science Institute released 59 new images for the Hubble Space Telescope to celebrate the 18th anniversary of its launch.
may
Placards were placed by Jewish people in front of the main railway building at the former Nazi deathcamp of Birkenau (Auschwitz II) in Oschweim, souther Poland. Around 10,000 young Jews, Poles, and World War II survivors took part in the March of the Living, an annual event that honors the six million Jews who perished in the Holocaust.
A man holds up a sign portraying Cuba's leader Fidel Castro and President Raul Castro during a May Day parade at the Revolution Square in Havana. The sign reads, 'Faithful to their ideas.'
A youth waves an Israeli flag as fireworks explode in the sky over Rabin's Square in Tel Aviv. Israel marked in 60th Independence Day with a great sense of pride but also uncertainty about its future and doubts about prospects for peace with the Palistineans.
Smoke billows from burning tires as a Lebanese boy flashes the victory sign at a blocked road leading to Rafiq Hariri International Airport in Beirut. Fierce armed clashes erupted in west Beirut between supporters of Lebanon's western-backed government and the Hezbollah-led opposition.
Smoke and ash rise for thousands of meters through a thick layer of clouds from the crater of the Chaiten volcano in southern Chile. Chaiten began erupting for the first time in thousands of years, and authorites evacuated thousands of people from the immediate vicinity.
Carly Smith, 6, plays in confetti after a primary rally for Hilary Rodham Clinton in Charleston, W. Va. Clinton routed Barack Obama in the state but failed to make any significant gains against Obama's lead in the delegates.
A woman holds a portrait of her 12-year-old son Feng Junwei as she and other relatives attend a memorial altar at the ruins of the destroyed Fuxing primary school. The death toll from China's massive earthquake rose to more than 55,000 with nearly 25,000 missing.
'Uncontacted Indians' of the Envira, who have never before had any contact with the outside world, are photographed for the first time during an overhead flight in Brazil. "We did an overflight to show their houses, to show they are there, to show they exist," said expert Jose Carlos Meirelles.
A fireworks show is displayed for the 125th birthday celebration of the historic Brooklyn Bridge. The iconic bridge spans 6,000 ft. and is one of the nation's oldest suspension bridges.
june
A gas station displays rising gas prices near San Diego's Lindbergh field. Oil prices reached record highs and wiped out investors' recent optimism about the economy.
A huge tornado funnel cloud touches down in Orchard, Iowa. Lori Mehmen, who reportedly took the photo from outside her front door, said the funnel cloud came near the ground and then went back up into the clouds. Tornados struck also in Kansas killing at least two.
Boston Celtics' Kevin Garnett, Ray Allen, and Paul Pierce celebrate in the locker room after winning the NBA basketball championship. The Celtics won their 17th NBA title in relentless fashion, trouncing the LA Lakers 131-92, a 32-point win that surpasssed the NBA record for the biggest margin of victory in a championship clincher.
Del Martin, 87, and Phylis Lyon, 84, are married by San Francisco mayor Gavin Newsom in a private ceremony at San Francisco City Hall. Hundreds of same-sex couples got married across California in what some people are calling the state's new Summer of Love. A couple of 55 years, Lyon explains, "We get along. And we love each other."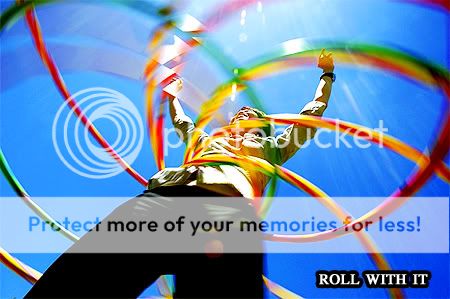 As the Hula Hoop celebrates its 50th anniversary, Wham-O (the company that originally sold the toy) intern Li-Hsuan gives some hoops a whirl. "It became a real piece of Americana," said toy historian Tim Walsh. The hula hoop became so ubiquitous that the former Soviet Union once banned the toy as a symbol of the "emptiness of American culture."
Pedestrians watch a light installation on buildings in Fuerstenfeldbruck near Munich, Germany. The artistic illumination is a program point of the so-called Brucker Kulturnacht, or culture night.
Refugees who fled the conflict in Sudan's western Darfur region peek through a hole in a shelter at the Djabal camp near Gos Beida in eastern Chad. June 20 marks the U.N. World Refugee Day. Reflecting the violence in Darfur that has swept in both directions across the Chad-Sudan border, there are 250,000 Sudanese refugees scattered in a dozen camps in eastern Chad and 180,000 internally displaced Chadians, U.N. officials say.
A female police officer aims her pistol in a shooting range during a graduation ceremony in Karbala, Iraq. Some 115 policewomen graduated Wednesday from Karbala's police academy.
july
A Spanish youth jumps over a beach bonfire during the traditional San Juan night in the southern city of Malaga.
Activists of human rights and sexual freedom march in New Delhi, India, on World Pride Day. Gays, lesbians, and transvestites took to the streets of three major Indian cities in the first nationally coordinated pride marches aimed at overturning a law forbidding homosexuality.
An image taken by NASA's Hubble Space Telescope shows a delicate ribbon of gas floating eerily in our galaxy. The ribbon is a very thin section of supernova remnant caused by a stellar explosion that occured more than 1,000 years ago.
Algae covering a third of the Olympic sailing course caused a huge embarassment for Chinese authorities trying to promote "Green Games." Australia's Men's 470 class team, above, trains on the algae-infested waters.
Kent Couch leaves his gas station in Bend, Oregon riding a lawn chair rigged with more than 150 giant party balloons in an attempt to fly to Idaho. He was equipped with a BB gun and a blow gun for popping balloons just in case he got too high and three 15-galloon barrels of cherry Kool-aid just in case he got too low.
A runner falls on top of a fighting bull as they take the Estafeta curve during the centuries-old running of the bulls in Pamplona, Spain. More than a dozen participants, who don traditional all-white garb with a red sash and kerchief, were injured in this year's San Fermin festival.
Splinters of ice peel from the Perito Moreno glacier in Argentina during an unexpected rupture in the southern hemisphere's winter months. The glacier, part of the Los Glacieres National Park, a World Heritage site, is one of the few glaciers which are advancing instead of retreating.
Two studies based on data from NASA's Mars Reconnaissance Orbiter revealed that the Red Planet once hosted vast lakes, flowing rivers, and a variety of other wet environments that had the potential to support life. The color-enhanced image shows a delta in Mars' Jezero Crater, which once held a lake.
Miss Venezuela Dayana Mendoza edges out Miss Columbia Taliana Vargas to win the Miss Universe pageant Nha Trang, Vietnam. The contest was marked by the spectacle of Miss USA falling down during the evening gown competition for the second year in a row.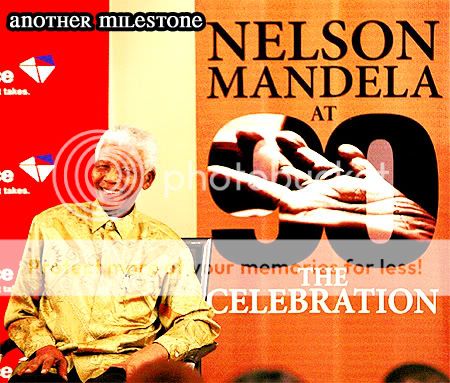 South Africa unveiled a new series of stamps to mark former President Nelson Mandela's 90th birthday. Mandela was imprisoned for nearly three decades for his fight against apartheid before being elected president in South Africa's first democratic elections in 1994.
Tracy Roberts has her toes nibbled on a type of carp called garra rufa, or doctor fish, during a fish pedicure treatment at Yvonne Hair and Nails salon in Alexandria, Virginia. "I know people were a little intimidated at first, "But I just said, 'Let's give this a shot.'"
Mixed-race couple Stephan and Florence Gerth show of their twin boys Ryan and Leo in a Berlin hospital. The twins, who have radically differing skin tones, were born by Caesarean section.
A supporter cheers on U.S. presidential candidate Sen. Barack Obama outside his hotel in Berlin. Speaking to an estimated 200,000 people at a site close to where the Berlin Wall once stood, obama encouraged Europeans and Americans to come together to defeat terror, saying, "The walls between old allies on either side of the Atlantic cannot stand."
Revelers enjoy Usman Haque's light show 'Primal Source' during California's Glow, an all-night event inspired by Nuit Blanche in Paris, held on the Santa Monica Pier featuring multimedia installations by international artists.
Nathan Robbel and Sarah Elizabeth of Chicago grab their tickets for a midnight showing of the hotly-anticipated "Dark Knight." The last movie Heath Ledger completed before he died, "The Dark Knight" surpassed expecations, debuting with a record $158.4 million, according to the final weekend numbers.
People walk over a copy of Vassily Kandinsky's painting "Weilheim-Maria's Square" on the pavement of the market square in the Bavarian town of Weilheim. About 500 students and citizens painted the 2,100 square-meter area, with about 8,000 paving stones, to produce the world's largest copy of a Kandinsky painting.
august
A giant panda is seen in a breeding case at the Chengdu Research Base of Giant Panda Breeding in China's southwestern province of Sichuan. Four Giant Panda cubs were born within 14 hours in China, giving a rare boost to the population of the endangered species.
Residents crowd a swimming pool during hot weather in Suining, Sichuan province China. Local media reported the weather reached 98.6 degrees Fahrenheit.
Maria Von Trapp, 93, daughter of Austrian Baron Georg Von Trapp, is staying in her home, Villa Trapp, for the first time since her family fled the Nazi regime in 1938. The orginal Von Trapp family home was reopened as a hotel to give people a chance to lay their head to rest where the Von Trapp family once lived, get married in the house's chapel, or have a 'Sound of Music' dinner in the family dining room.
A youth painted in traditional indigenous markings takes part in festivities honoring Managua's patron saint, St. Dominic of Guzman, in Nicaragua.
Hundreds of paper lanterns float in the Motoyasu River, in front of the gutted Atomic Bomb Dome, for a memorial service honoring victims from Hiroshima. The western Japanese city marked the 63rd anniversary of the world's first atomic bombing that killed 140,000 residents.
A man and his camel walk past a total solar eclipse in Gaotai, Gansu province, China. The rare spectacle swept across the Arctic and Siberia before ending at sunset in China, a week before the opening of the Olympics in Beijing.
Fireworks light up the National Stadium, also known as the "Bird's Nest," during dress rehersal for the opening ceremony of the Beijing Olympics. President Bush traveled to China for the games, making him the first U.S. president to attend the competions on foreign soil.
The 'Waterboarding Thrill Ride' installation by artist Steve Powers is seen at the Coney Island arcade in New York. The public can peak through the window bars and feed a dollar into a slot to bring the robotic dolls into action. Alex Soto, 23, said it was a good thing to learn but it was 'pretty twisted.'
Scientists in Britain announced that they had stitched together thousands of rat neurons into primitive brains capable of controlling the movements of robots.
Perseid meteors streak across the sky in Lake Mead National Recreation Center, Nevada. The meteor display, known as the Perseid shower because it appears to radiate from the constellation Perseus in the northeastern sky, is a result of the Earth's orbit passing through a debris from the comet Swift-Tuttle.
U.S swimmers Michael Phelps and Garrett Weber-Gale celebrate afher winning gold in the Men's 4x100 meter freestyle relay in Beijing. Teammate Jason Lezak caught up with -- and passed -- the highly-favored French team in the race's thrilling final leg.
Jamaica's Usain Bolt celebrates after winning the gold medal in the men's 200-meter final at the Bird's Nest in the Beijing Olympic Games. Bolt finished in 19.30 seconds, breaking Michael Johnson's 12-year-old record. "I just blew my mind and blew the world's mind," Bolt exclaimed.
Fireworks explode behind the New Palace during the 10th "Night of Potsdam's Palaces" in Sansscouci castle park in Potsdam, Germany. More than 30,000 visitors strolled throught the Prussian Baroque park with its castles Sansscouci and New Palace.
A doll representing a fetus and crosses displayed by anti-abortion activists sit at Mexico City's central Zocalo square during a protest against the legalization of abortion. Mexico's Supreme Court indicated it will uphold a Mexico City law allowing abortion that has divided the country. Signs next to the doll read in Spanish 'I want to live' and 'Vote for me; vote for life.'
Revelers fight with tomato pulp during the annual "Tomatina" festival in the Mediterranean village of Bunol, near Valencia, Spain. The origin of the tomato fight is disputed, but most agree it started around 1940, in the early years of the dictatorship of General Francisco Franco.
september
The Golden Temple, Sikhs's holiest shrine, is illuminated in Amritsar, India. Sikhs marked the 404th anniversary of the installation of the Guru Granth Sahib, their holy scripture.
A woman reacts during a ceremony commemorating the people who died during the 2004 Beslan hostage crisis. Moscow's campaign against Islamist insurgents reached a watershed in September 2004, when heavily armed Chechnyan gunmen seized a school Beslan, Russia. When the seige ended 3 days later, 334 people -- half of them children -- were dead.
Thai pro-government protestors wield a sling and knife against anti-government demonstrators near the Government House in Bangkok. Thailand's prime minister declared a state of emergency in the capital after street fighting left one man dead and dozens injured.
Children play with snow after a heavy hailstorm hit a deforested hillside in Gikingki village in Nyahururu, Kenya. The extreme weather turned parts of central Kenya white, thrilling residents, most who never experienced such conditions.
The owner of Coney Island's Astroland said she is calling it quits and is closing the historic amusent park for good. Hundreds of nostalgia-minded visitors headed to the park to take a last spin on the park's rides including Dante's Inferno funhose, the Tilt-A-Whirl and the famous cyclone wooden roller coaster.
Mexican Air Force planes perform exercises during a military parade celebrating Independence Day in Mexico City. The anniversary marked Mexico's fight for independence.
Mourners lay candles at the Kauhajoki vocational high school in southwestern Finland after a gunman killed at least 10 people before shooting himself. Days later, panic spread among the students as text messages and online posts threatened to copycat the attacks.
october
Children play in a multi-colored fountain outside the king Abdul al-Aziz museum in Riyadh, Saudi Arabia. Muslims celebrate Eil al-Fitr, marking the end of the holy lunar month of Ramadan, following a month of fasting between daybreak and sunset.
The White House is one of 200 landmarks worldwide that was lit up pink in October as part of Breast Cancer Awareness Month.
Three-year-old Matani Shakya, Nepal's newly-appointed living goddess, is greeted by a crowd in Katmandu, Nepal. Devotees touch the girl's feet with their foreheads, the highest sign of respect among Hindus in Nepal. Living goddesses are both worshipped by Hindus and Buddhists.
An Israeli man reads in a Jerusalem park at the beginning of the Jewish holiday Yom Kippur. The 'Day of Atonement' is the holiest of Jewish holidays when observents atone for the sins of their past year and the nation almost comes to a complete standstill.
A woman puts books into a board at the Book Fair in Frankfurt, Germany. At this 60th edition of the world's largest book fair, electronic books and digital downloads caused a buzz.
Members of the Samaritan sect pray at dawn during a pilgrimage for the holy day of the Tabernacles near the west bank town of Nablus. According to tradition, the Samaritans are descendants of Jews who were not deported when the Assyrians conquered Israel in the 8th century B.C.
A Buddhist monk looks out the window of Thailand's Wat Pa Maha Chedi Kaew temple, built with more than a million glass bottles. The temples has found an environmentally friendly way to utilize discarded bottles to reach nirvana -- using them to build everything on the premises from a crematorium to shelters and toilets.
A U.S. soldier shakes the hand of an Iraqi boy during a patrol in Baquba, in the Diyala province. The USA relinquished control of an area that includes much of the area south of Baghdad once known as the "triangle of death."
An Indian woman lights an earthen lamp on the eve of Diwali, a major Hindu holiday celebrating the victory of good over evil.
A Pakistani woman cries on the debris of her house destroyed during an earthquake in Ziarat. Rescue workers searched through the rubble of villages destroyed by the powerful quake that killed at least 170 people.
november
Bhutan's King Jigme Singye Wangchuck, crowns his son, Jigme Khesar Namgyel Wangchuck, the fifth king of Bhutan. With medieval tradition and Buddhist spirituality, the 28-year-old with an Oxford education assumed the Raven Crown of Bhutan to guide the world's newest democracy into the modern world.
Barack Obama shed tears as he discussed the death of his grandmother, Madeline Payne Dunham, on the eve of Election Day. Obama became president-elect the following day after winning the votes of many swing states, including Virgina, Ohio, North Carolina, and Florida.
President-elect Barack Obama and his wife, Michelle, greet crowds in Chicago, with vice-president elect Joe Biden and his wife, Jill. Obama opened by telling the crowd, "If there is anyone out there who still doubts that America is the place where all things are possible; who still wonders if the dreams of our founders are alive in this time; who still question the power of our democracy, tonight is your answer."
Protegee, carrying her sibling on her back, cries as she looks for her parents in Kiwanga, Congo. A fragile cease-fire appaeared to be unraveling as the U.N. said battles between the warlord Laurent Nkunda's rebels and the army spread to another town in the volatile country's east.
Anti-Proposition 8 activists shout slogans outside of City Hall in San Francisco. The passage of Prop. 8, which bans same sex-marraige in California, stirred anger, protests, and lawsuits by opponents.
Pakistani Sunni Muslims devotees return to their homes on a packed train after attending the annual religious congregation in Multan. Hundreds of thousands of Sunni Muslims devotees from all over the country took part in the three-day congregation.
Bri
A person climbs out from under the rubble of a school after it collapsed in Petionville, Haiti. The concrete building gave way during classes, killing at least 90. Just a few days later, another school fell in Port-Au-Prince, injuring 9.
A skull sits among candles and flowers during Day of the Skulls celebrations in La Paz, Bolivia. Aymara Indians revere the skulls of their relatives and believe they protect them from evil and help them attain their goals. Relatives decorate the skulls and carry them to church or cemetaries to be blessed.
British World War One veterans Henry Allingham, 112, left, Henry Patch, 110, and Bill Stone, 108 gather before the start of Amistice Day commemorations in White Hall in London. Europe marked the 90th anniversary of the end of World War I with a handful of surviving veterans.
Edith Shain, the nurse in the famous photograph taken by Alfred Eisenstaedt of a sailor kissing a nurse in New York Times Square on V-J Day, imitates the embrace with Nick Mayo, a cast member of the musical South Pacific. Shain, 90, served as the Grand Marshal of the New York City Veterans Day parade.
Activists in Lima, Peru organized a protest demanding that the U.S. government close the military prison in Guantanamo, Cuba. President George W. Bush is heading to Lima for the Asia Pacific Economic Cooperation forum, which will most likely be his last summit with foreign leaders.
Anti-government protesters sit in the departure terminal at Thailand's Suvarnabhumi airport, forcing the cancellation of departing flights. The People's Alliance for Democracy has staged numerous dramatic actions in the recent months to try to secure the resignation of Prime Minister Somchai Wongsawat.
A policeman gives water to an injured child at a hospital in Mumbai, India. Dozens of people were killed in a series of shootings around the country's financial capital, with two five-star hotels among the targets in what police call a terror attack.
Boys displaced by war walk together at the Don Bosco center in Goma, Congo. Fighting in eastern Congo has displaced hundreds of thousands of civilians in recent weeks, with 1,519 people sheltered at the Don Bosco school compound.
december
Stargazers in Kathmandu look at the crescent moon below Venus and Jupiter. Astronomers all over the world spotted the rare phenomenon as two of the brightest naked-eye planets joined a thin crescent moon to make a brief 'happy face.'
Gondoliers eat breakfast while sitting in floodwaters in Venice, Italy. Large parts of the lagoon city were under water as heavy rains boosted sea level to their highest level in 22 years. Ferry and water taxi services were suspended, and Venice's mayor urged people to stay indoors.
Woody Derby, 90, participates in Hawaii's annual Pearl Harbor commemoration. With an eye on the immediate aftermath of the 1941 attack on Pearl Harbor, thousands of World War II veterans and other observers remembered the 67th anniversary of the devastating Japanese military raid.
Ultra-Orthodox Jewish men gather during the final burial of Rabbi Gavriel Noach Holtzberg, 29, and his wife, Rivkah, 28, on the Mount of Olives in Jerusalem. Israelis buried six Jews, likely targeted because of their religion, who were killed in the terror attacks in Mumbai, India. Nearly 200 people were killed in the rampage.
Brazilian actor Romulo Augusto performs inside a plastic bubble, representing AIDS-infected people isolated from soceity, to mark World Aids Day. The bubble reads 'Prejudice Isolates.'
Tens of thousands of Muslim pilgrims move around the Kaaba, the black cube seen at the center of the Grand Mosque, during the annual Hajj pilgrimage in Mecca, Saudi Arabia.
Western Wall Rabbi Shmuel Rabinowitz placed letters written and addressed to God into cracks in the Western wall, Judaism's holiest site in Jerusalem's Old City. Every year Israeli officials bring letters addressed to the wall or to God and stuff them in between the stones in the walls.
A Palistinean boy makes an imprint of his palm smeared with sheep's blood, which is traditionally believed to bring luck and prevent envy, on the wall of his house during the Eid-al-Adha festival. Muslims worldwide celebrate the Feast of the Sacrifice which commemorates God's provision of a ram to subsitute for Abraham's impending sacrifice of his son.
WBC lightweight champion Manny Pacquiao connects with Oscar De la Hoya during the sixthround of their welterweight boxing match in Las Vegas. Pacquiao won the fight after it was stopped between the eigth and ninth rounds.
A thick coat of ice covers a chain link fence and the trees behind it along a highway in Boylston, Massachusetts. An ice storm caused power outages throughout the northeast and put Massachusetts and New Hampshire under a state of emergency.
A striking green snake known as a Gumprechts green pit viper is one of the most distinctive new species in Southeast Asia's Greater Mekong region. The World Wildlife Fund announced that scientists have uncovered more than 1,000 new species in that region in the past decade.
SOURCE:
YAHOO! Week in Photos
DISPOSITION:

tired
SOUNDBYTE: ♪ Numa Numa Song [by] O-zone